B&C Industries ships to the entire continental USA. Orders within the tristate area and Pennsylvania are delivered next-day via our large-scale trucking fleet. Orders from elsewhere are shipped via freight with standard freighting charges. Smaller orders are fulfilled via UPS and are subject to standard UPS charges.
Freight and UPS charges will be calculated after. Don't worry—you won't be charged until you've had a chance to review the shipping costs and confirm your order.
Please refer to the shipping map below to see when your order will arrive. Once placed, orders are shipped on
the same or the next business day and every effort is made to fulfill your order as quickly as possible.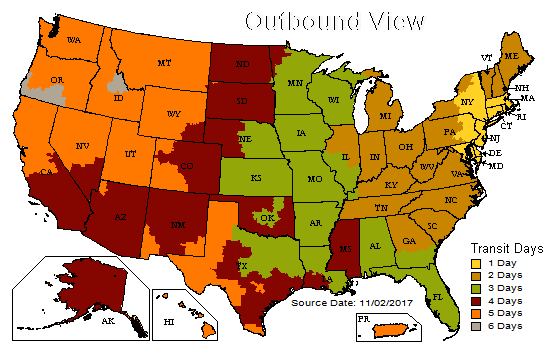 If after you order, a product seems to be out of stock we will notify you by email or telephone.
You undertake to ensure that the delivery information provided by you when ordering is correct. You accept that we cannot be held liable for any failure or delay in delivery of Products.